Theatre
For a Full Listing of Activities please go to: GlobalTheaterAudiences.org
The Cool People Party
A Fundraising Event for:
The Black Wall Street Festival NY
Presented by Shades of Truth Theatre & Voza Rivers/ New Heritage Theatre Group & 1199 SEIU African American Committee
Where:
MLK Labor Center
310 West 43rd Street, New York, NY
(between 8th & 9th avenues)
When:
Friday, July 22, 2016 from 6pm - 11:30pm
The Meeting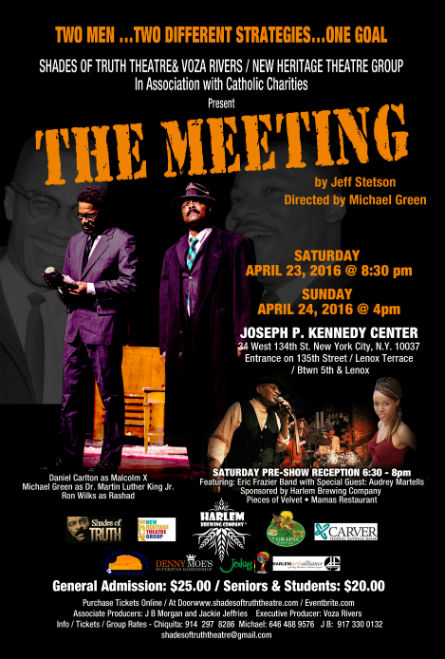 In Association with Catholic Charities, Presented by Shades of Truth Theatre & Voza Rivers/New Heritage Theatre Group
Where:
Lt. Joseph P. Kennedy, Jr. Community Center
34 West 134th Street, New York, New York
Entrance on 135th Street / Btwn 5th & Lenox
Show time:
Saturday, April 23, 2016 - 8:30pm
Sunday, April 24, 2016 - 4pm
A Whistle in Mississippi: The Lynching of Emmett Till
Presented by Local 1199 African American Committee, Shades of Truth Theatre & Voza Rivers/New Heritage Theatre Group
Where:
Local 1199 Auditorium
310 West 43rd Street, New York, New York
Show time:
Thursday, March 31, 2016 - 7pm
Bridges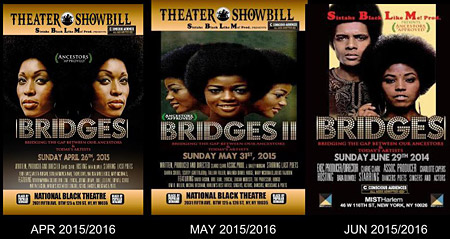 April, May & June, 2015
National Black Theatre Inc
2031 5th Avenue
New York, NY 10035
J. Bailey Morgan
Assistant Producer, Bridges I - Co-Producer, Bridges II - Associate Producer, Bridges III
Sistahs Black Like Me Presents, "Bridges" ... A Play ... On Words, Spoken Word, Rhythm, Soul, Music & Theather. In Celebration of Our Ancestors, we are presenting A Poetry Production Bridging the gaps between yesterday and today's artist in a Choreo-poem style performance.
Bridging the Gap Between Our Ancestors and Today's Artist
These presentations include artists ages 10 - 80 in music, song, dance and poetry intertwining with old fables with an urban twist. Starring The Last Poets and Vintage Soul Singers.